Day 2 - Febuary 13, 2010
Welcome to Tokyo
Having stayed the night at the airport, it didn't really sink in that I had actually made it to Japan. I was thinking when I saw Shibuya Crossing(the busiest pedestrian crossing in the world), then it would hit me properly.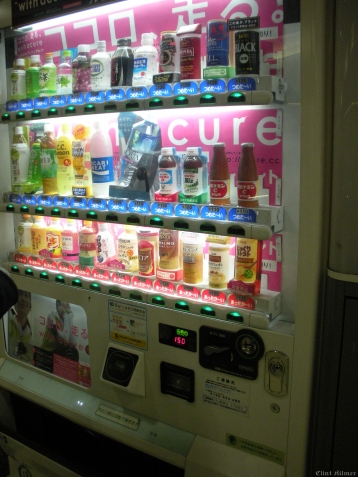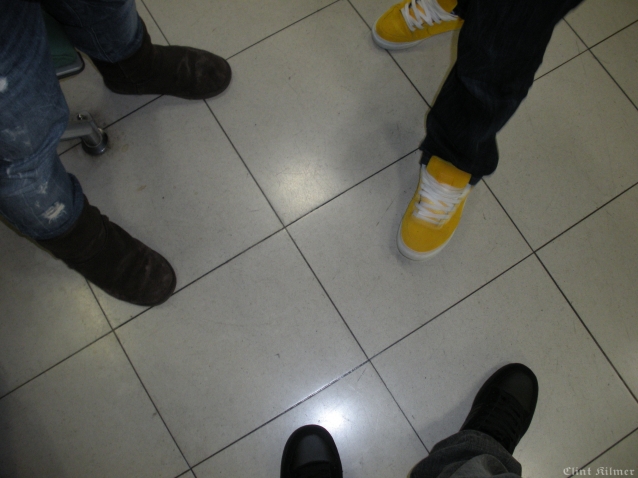 The warm caffine dispensing vending machine, and Tomoko's uggs.
Here are some random photos of the Narita Eki(train station). Note the vending machine, blue labels give you cold drinks while red labels give you hot drinks. I quickly became attached to these, desperate for caffination! My favorite brand is Wonda "Wonderful Coffee!".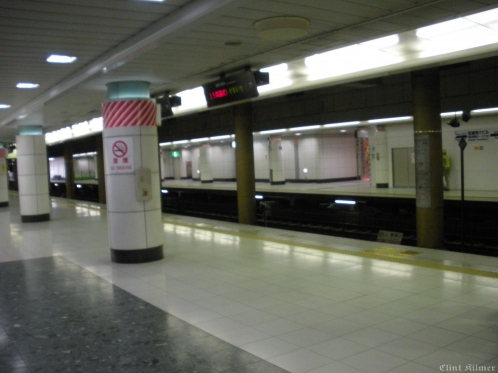 The most incredible train system in the world.
The Nex(Narita EXpress) train is the quickest way from Narita to Tokyo, about 90 minutes. The train itself is very clean and comfortable, a common trend that I will later find out.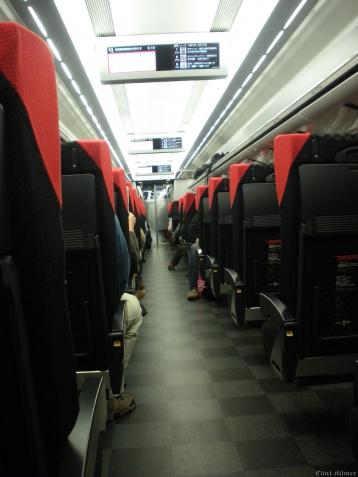 The Narita Express.
The train felt like it was going pretty fast, but I knew this was no shinkansen(bullet train). I was not prepared for my first ride on the shinkansen, but I'll talk about that later.
Incoming! And Miles being shifty...
The Japanese people are very courteous when they are sick in public places. They will often wear a surgical mask that covers their mouth and nose to help stop the spread of germs. Miles was pertty sick, so that's why he's wearing one. I got sick a few days later...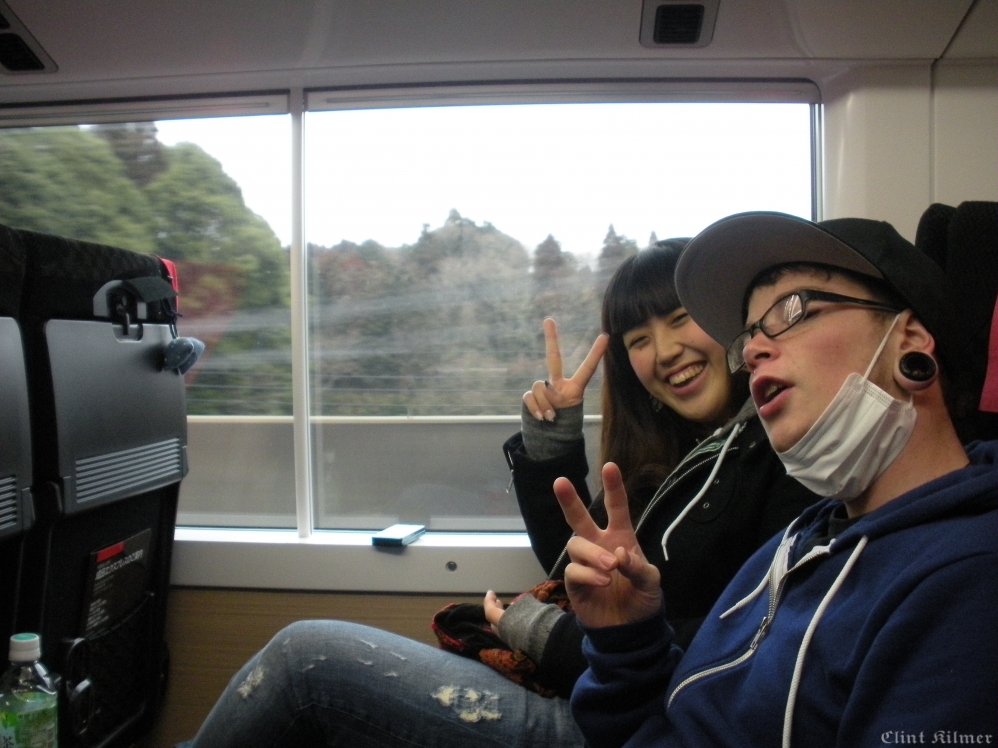 Tomoko and Miles, thanks again for meeting me in Narita!
It was nice to look out at the Japanese winter landscape, looking forward to the spring and the coming of the sakura(cherry blossoms).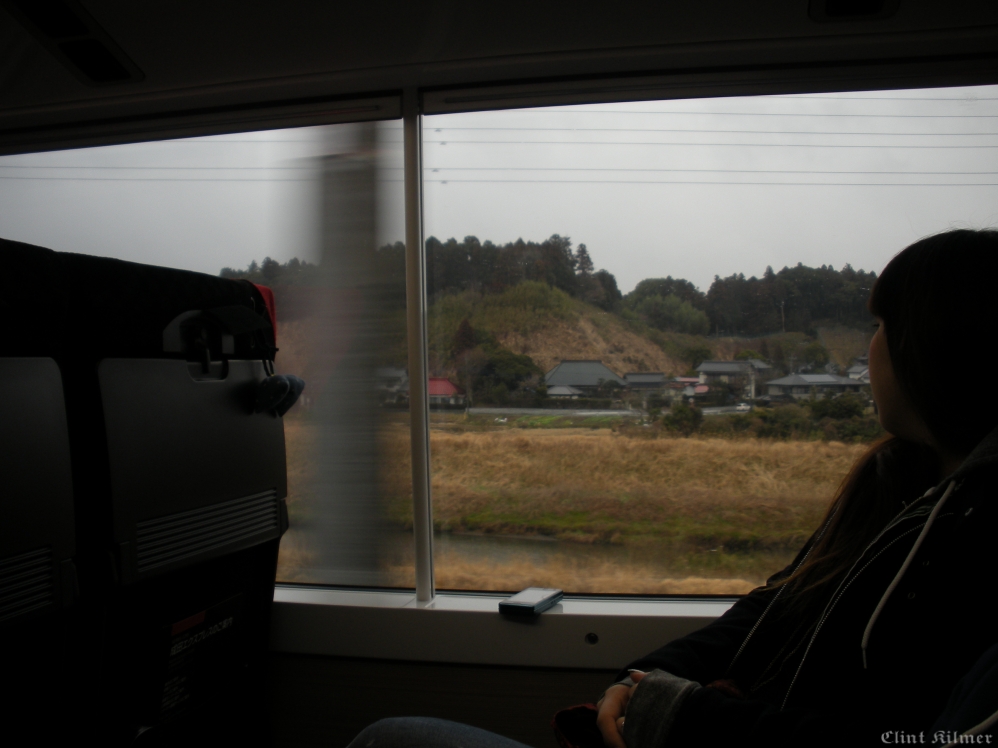 I really like this photo of Tomoko.
There is quite a bit of rural settlements along the tracks, and a lot of farmland.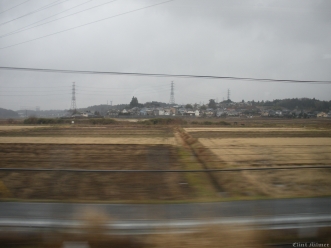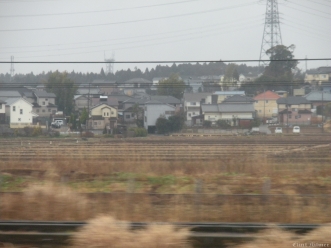 I took quite a few blurry train photos...
Soon the rural landscape turned to cityscape; we had entered the metropolis of Tokyo, and it was an unending jungle of concrete and buildings.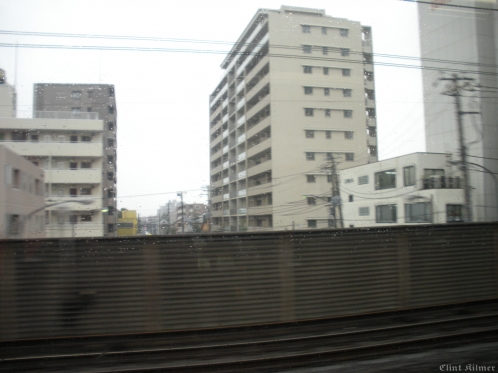 Endless buildings as we entered Tokyo.
We arrived at Tokyo eki and figured out our route to my apartment. Tokyo station is located on the JR Yamanote line, a circular train line that intersects the most popular stations, such as Tokyo, Shibuya, Shinjuku, Shinegawa, Ginza, Akihabara, and Ikebukuro. My apartment was a 2 minute walk from the Kanda station, which is sandwiched between Tokyo and Akihabara(the main shinkansen hub, and the otaku district, see what I did there?). If it weren't for my luggage, it would have just been a 10 minute walk from tokyo station.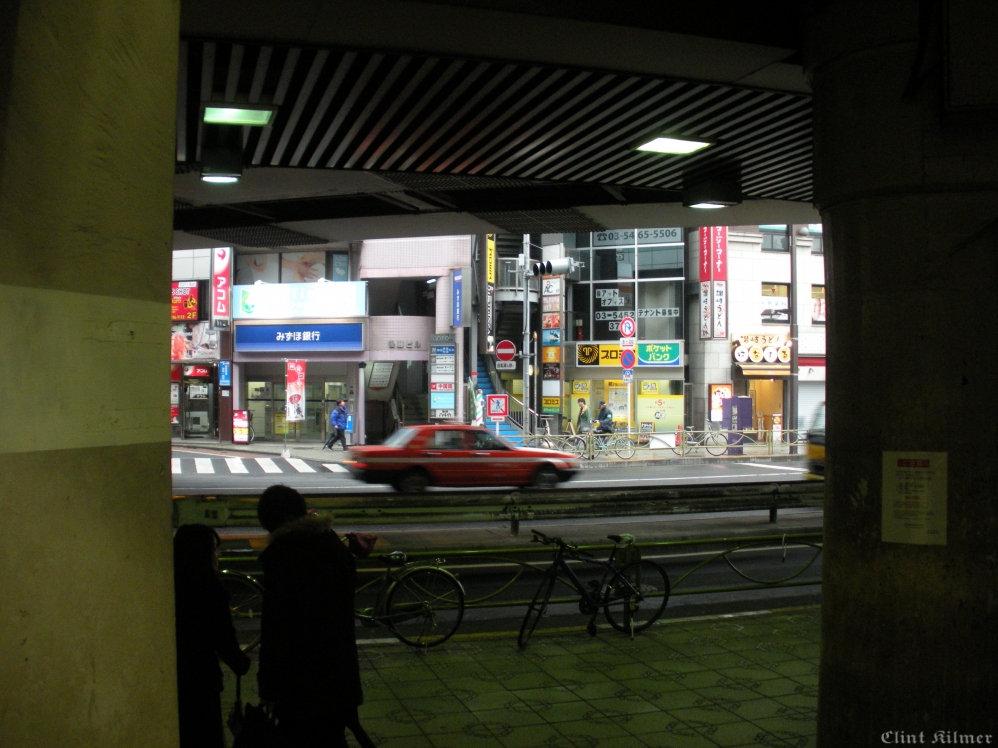 Looking out at the rainy city from under the train tracks of Kanda station.
I was supposed to meet my contact for my apartment at Kanda station, but we were about 30 minutes early, so we wandered around the station to kill some time.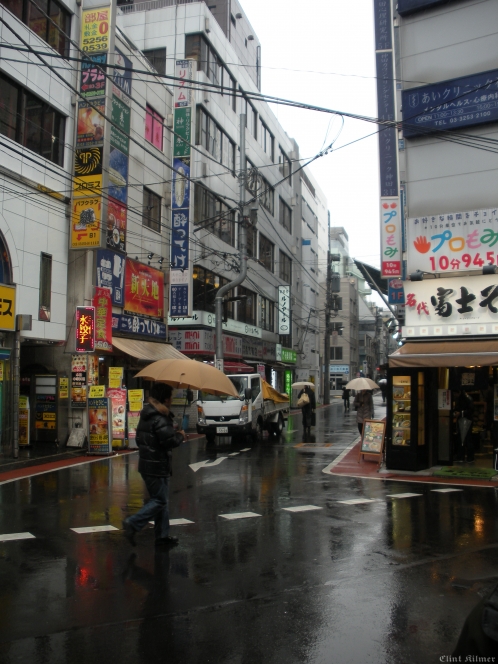 The area just outside of Kanda station.
Note the anime character on the building in the photo on the bottom left. And the Burger King -_- in the photo on the bottom right. I was standing just outside of a pachinko parlour(gambling with hundreds of metal ball bearings, kind of like pinball machines, hence the noise) and the noise was just incredible.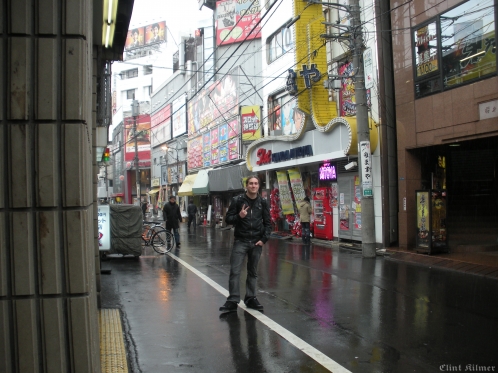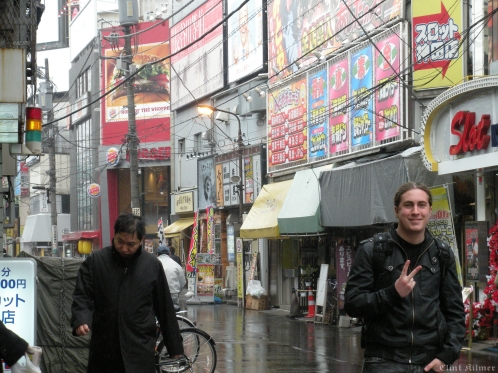 Here I am, posing like a gaijin. -_-
It's been way longer than 30 minutes, is she late? It can't be too difficult to find a white guy with long hair wandering around the station with lots of luggage.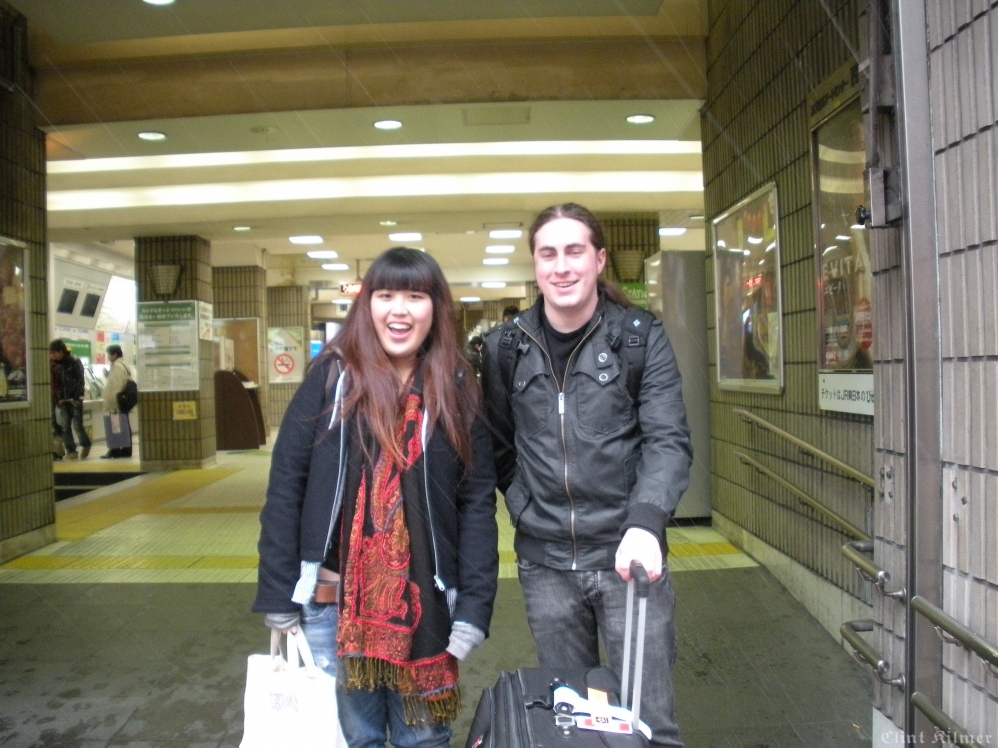 Tomoko and I, west entrance of Kanda station.
In Japan at the time, text messaging used an email system instead of SMS that we're all used to. That meant that I could send and recieve texts using my email, so I purchased a roaming data plan for my iPhone (and also Google Maps!). I emailed my apartment contact, and confirmed that she was running late. We decided to wander around and look for a coffee shop to relax in and get out of the rain.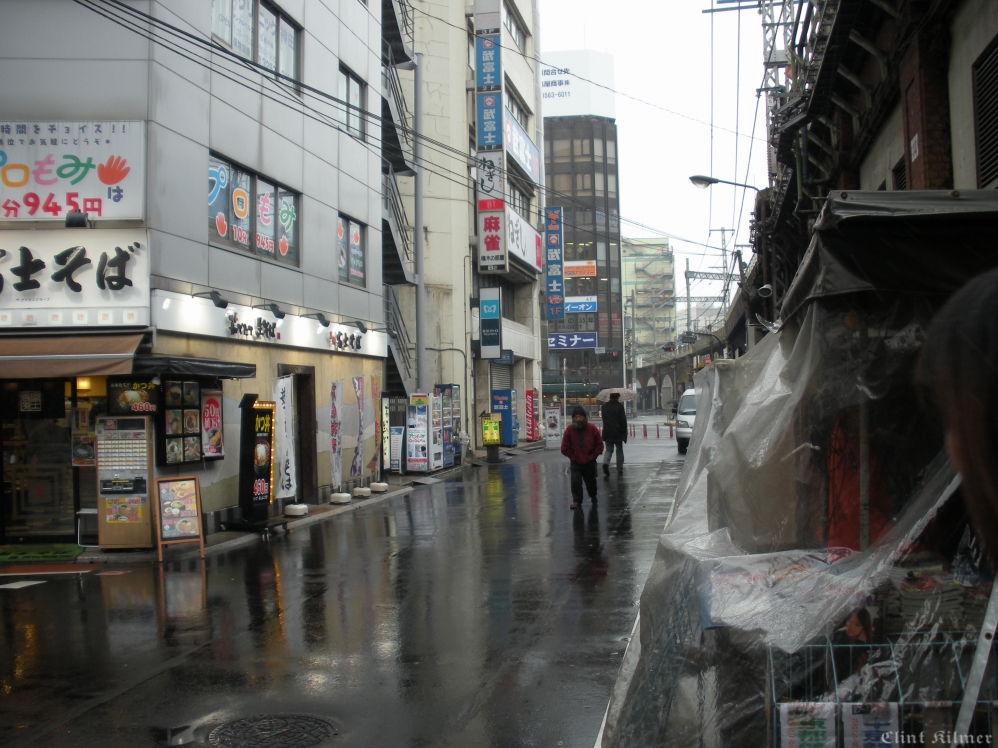 Looking south towards Kanda eki.
At the end of this street, there's a café which will end up becoming my favorite place to chill with a coffee and my journal at the end of the day.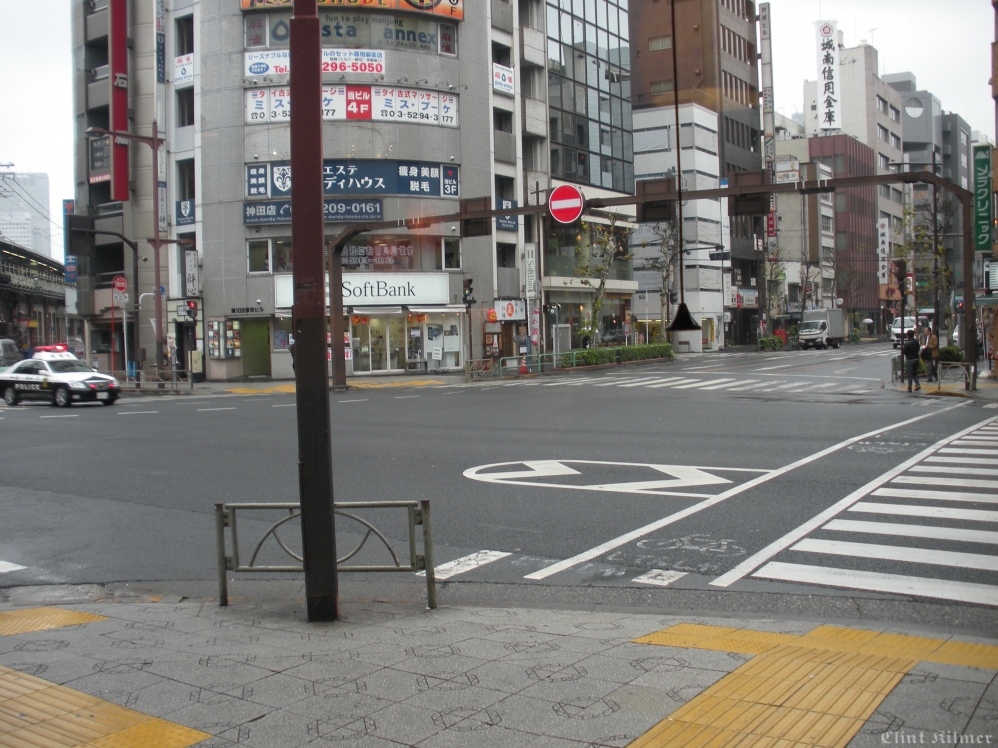 Looking north, down the street from the café toward my apartment.
I love how scraggly the trees look in the winter months. Note the bicycle crossing lane.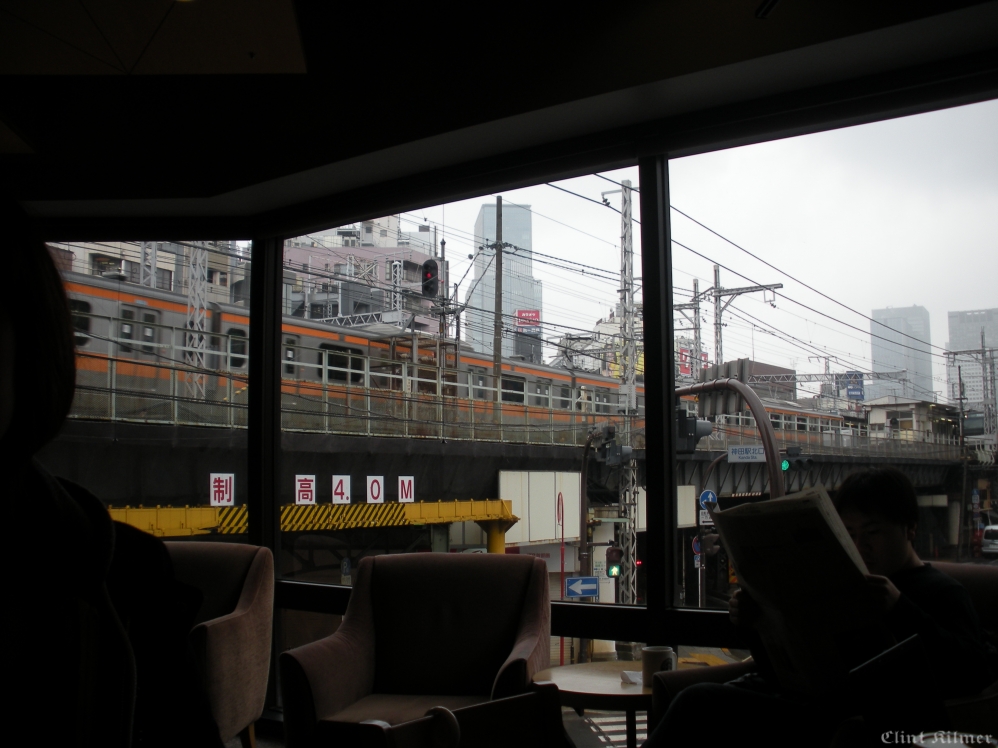 Upstairs in the local starbucks.
During sakura season, starbucks have seasonal sakura flavoured drinks. These would become available shortly, and many were had during my stay.
Ahh, my humble Japanese abode: the "Sky Court"! Located in the heart of it all.
Sky Court Entrance complete with real foliage!
We met my apartment contact, Yoko Toyama, and went upstairs to the ninth floor. I completed all the necessary paperwork, paid for my first months rent, and that was that.
If you're interested, there's the floorplan, the website. My unit type is labelled as "JAPT. Kanda 4, Type C".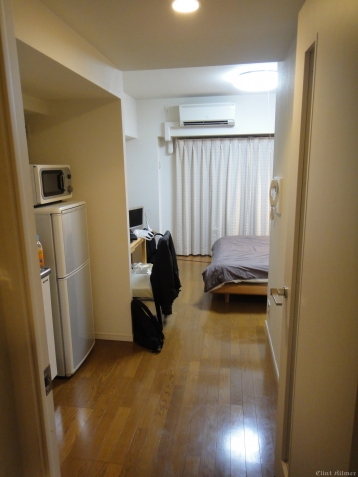 Main throughfare and bedroom/living room.
Here we can see the hallway, kitchen, entrance to the bathroom, my desk, and my bedroom.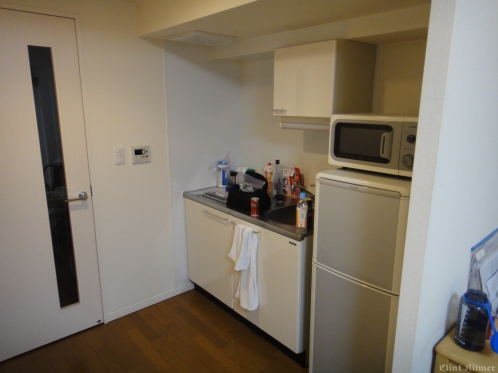 Living room and kitchen.
These photos are from later in my journey, as you can see from my messy desk! I wasn't nearly as shutter-happy in the beginning of my trip, which is unfortunate.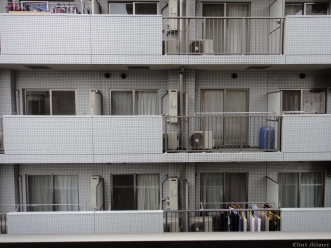 The view from my balcony.
Most homes in Japan only come with an ultra-compact washer, so many people dry their clothes on lines on the balcony, which are usually built in. You can see mine and my building-neighbour's clotheslines above.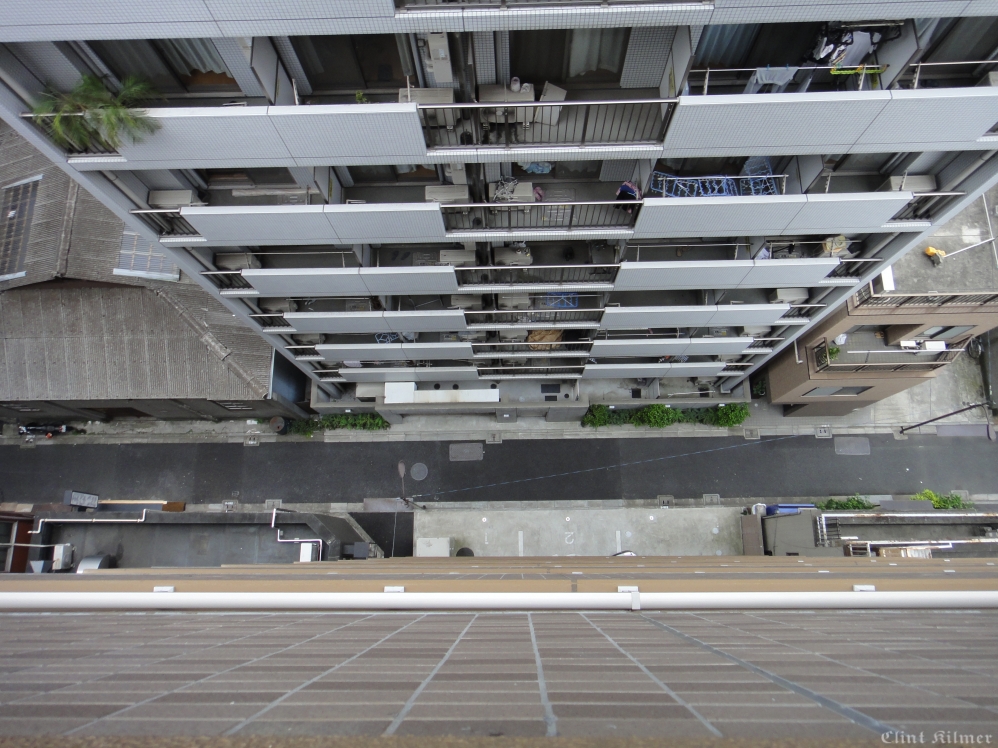 The alleyway behind my building
My building faced onto a busy street just north from the station, but my unit was on located on the back side of the building. My unit faced a cute little street with barely any traffic other than light foot traffic. Convenient, quiet, and central! I was very lucky in my apartment selection.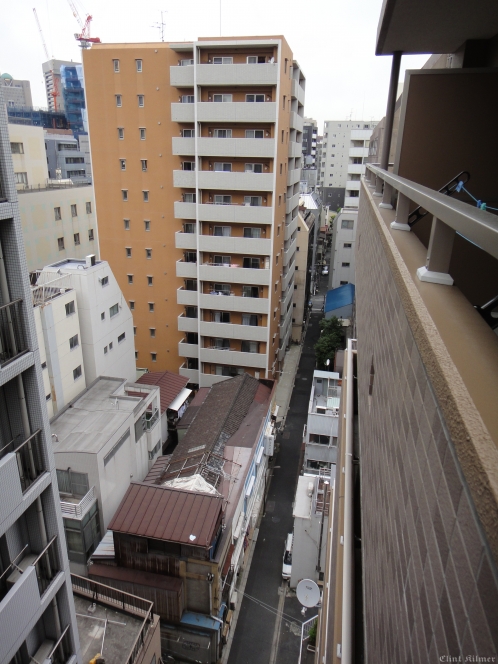 Looking up and down my little street.
I love walking along these little backstreets, it's so peaceful and oddly quiet. I made a habit of exploring areas like this, and found many wonderful surprises. Things some travellers might miss or not care about; it really is all about the little things.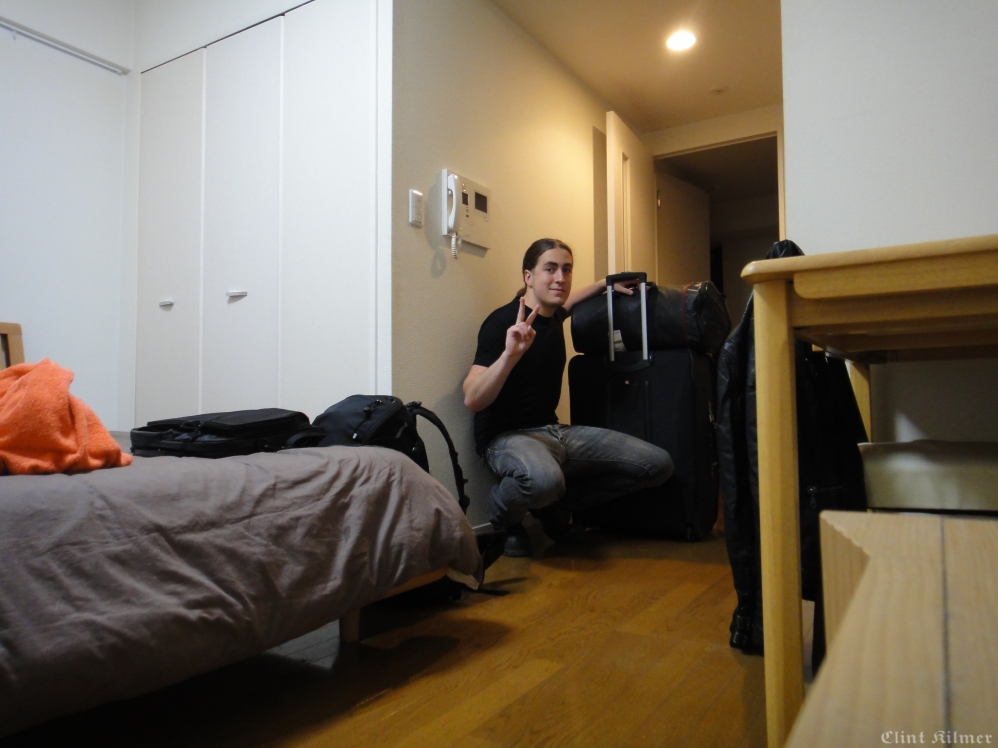 Me and my apartment. This photo was actually taken on the final day of my trip, but I thought it fit here nicely.
So with my accommodations figured out, I got to relax for a minute and collect my thoughts. It didn't take long for me to get settled in, as I only had one suitcase and 26.6 sq. meters of apartment to fill. Anyways, Miles and Tomoko had some plans for the rest of the day, so we headed out.
Don't get your fingers caught in the door!
Japan is infamous for hilarious warning signs. My apartment has this sign on the elevator doors. Funny stuff :D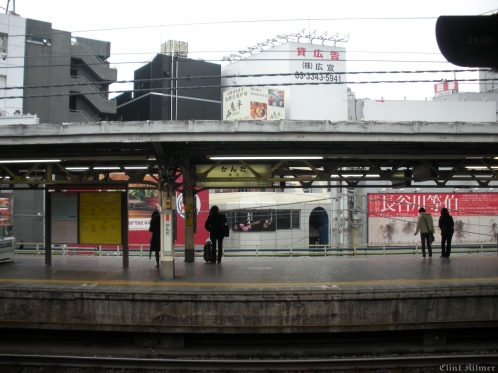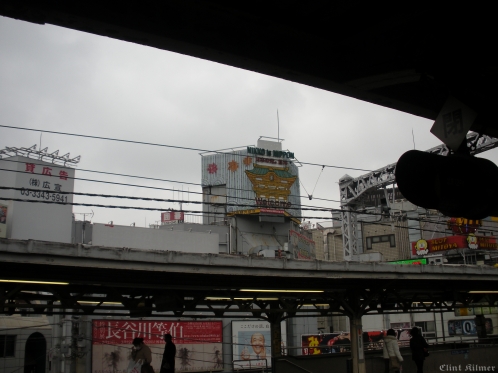 On the platform of Kanda station, JR Yamanote line.
We met Tomoko's friend Yuki at Kanda station, and decided to go explore Shibuya, an area that's known as one of the fashion centers of Japan, and home to one of the busiest train stations in Toyko, Shibuya Station.
View on Google Maps - Our route from Kanda Station to Shibuya.
It takes about 30 minutes to travel from Kanda to Shibuya on the JR Yamanote Line. Kanda is on the far east side of the circle, and Shibuya is on the far west side.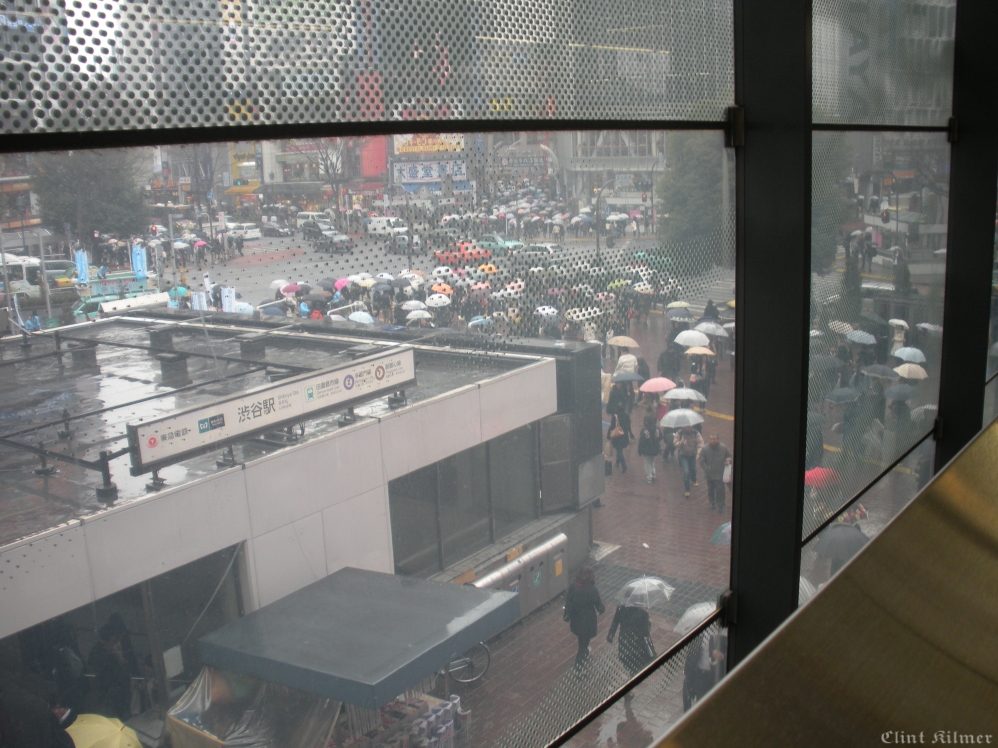 My first glimpse of Shibuya Crossing, one of the most iconic areas in Shibuya.
I think it was at this point, waiting to cross Shibuya Crossing, that it hit me. I was IN JAPAN!! A lifelong dream, number one on my bucket list, conquered yet just beginning. I was ecstatic. I can't quite describe how meaningful this moment was.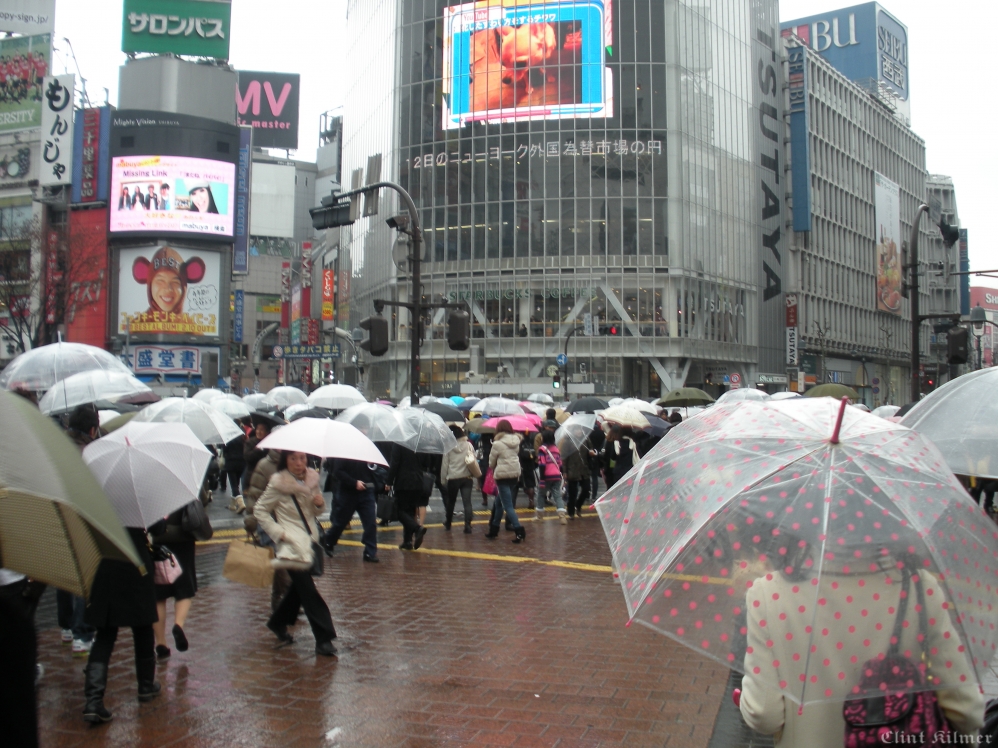 Rain doesn't stop any foot traffic here. It's just an excuse to break out your coolest umbrella!
Walking across the legendary crossing, heading towards the greater Shibuya area, full of anything and everything one could want.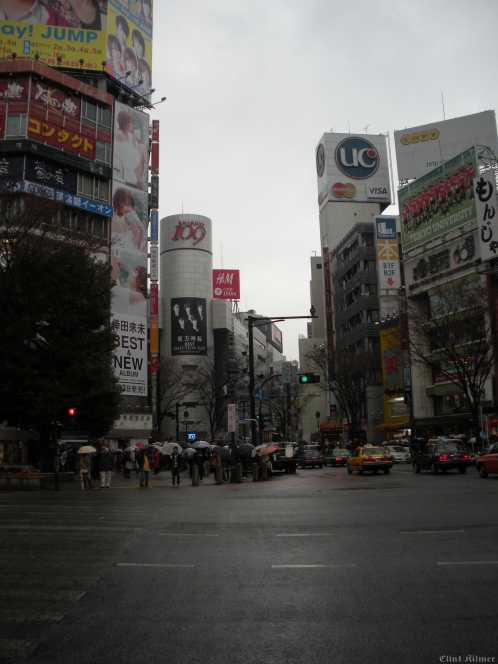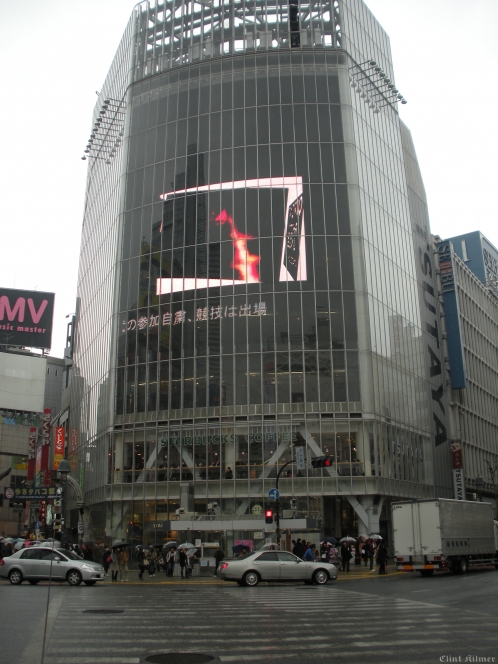 Left: Looking northwest up a busy street. Right: A famous starbucks with a prime view of the crossing, and a multi-level HMV above it.
Just to the left of the starbucks is the main entrance to the pedestrian only streets. We walked walked down this way for a bit, in search of some excellent food.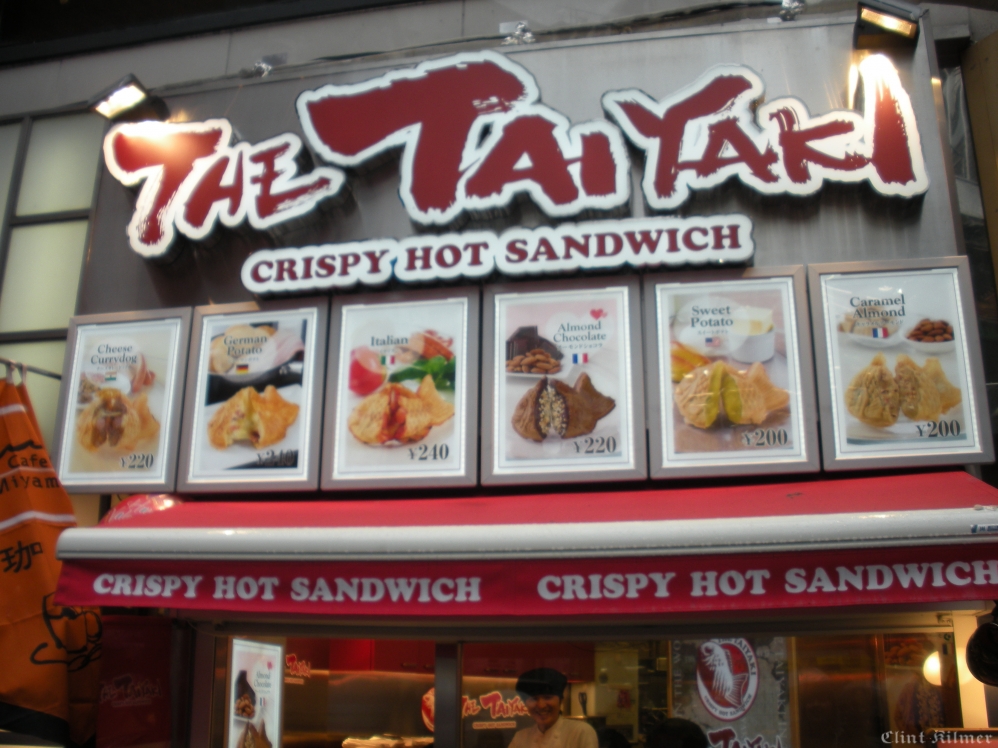 Ahh, Taiyaki, the wonderful fish-shaped pastry. One of the characters in the game/anime Kanon loved these, so I was pretty happy to stumble upon some so quickly. We decided to get some after we ate.
Condomania!
Like I said, Shibuya has anything and everything one could possibly want. A store that specializes in sexual protective equipment? You bet.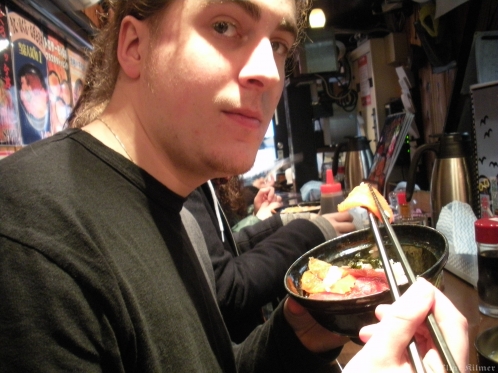 Lunchtime!
We ate at a tiny little hole-in-the-wall place that serves everal kinds of Donburi(rice bowl dish topped with fish, meat, or vegetables). I had a salmon and tuna sashimi donburi with miso soup. These tiny restaurants served some of the best food I had in Japan.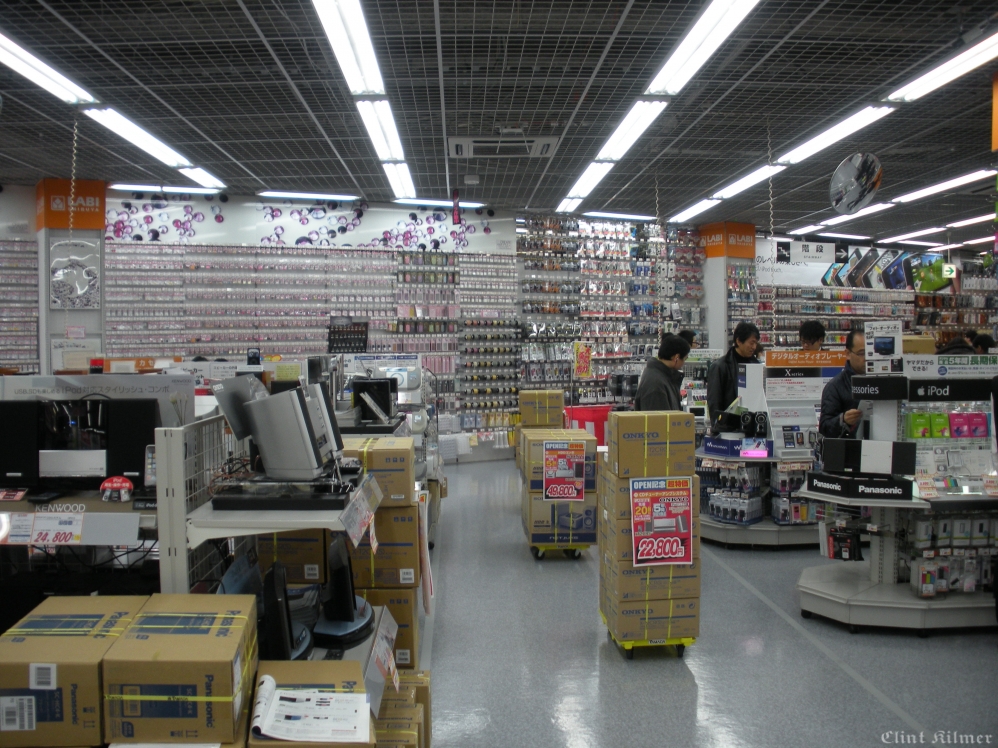 A random electronics store, featuring keitai denwa(cell phone) accessories.
We wandered around for a good while through various streets, shops, department stores, and little parks. After a couple hours in Shibuya, we were off to another destination.
Heading back to the station through the crouded streets.
We were off to Harajuku, the center of Japanese youth culture and fashion. Just a single stop away on the JR Yamanote Line!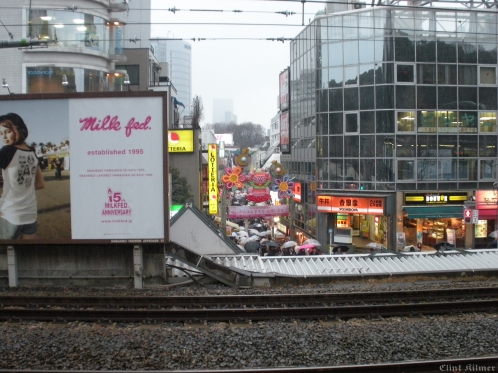 The ever-so-popular Takeshita Street in Harajuku.
When you exit the station, to your left is one of the largest parks in Tokyo, Yoyogi Park. To your right is the entrance to Takeshita Street. A tough choice. We went for Takeshita Street today, but I'll be back another day for Yoyogi Park!
View on Google Maps - From Harajuku station to the end of Takeshita Street.
After exploring the full length of Takeshita Street and some various side streets, we meandered over to Jingu Bashi, the pedestrian bridge between Harajuju station and the entrance to the Meiji Shrine. This place is the central meeting place for young Japanese fasion aficionados and associated subcultures. There wasn't much action today, but I'll be sure to come back here on a Sunday when it's really busy.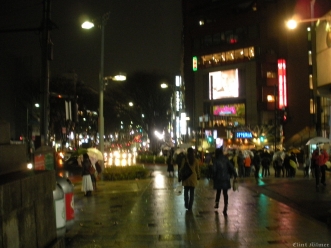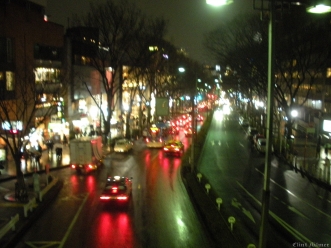 The main street that marks the end of Takeshita Street is a massive shopping district full of designer stores.
It was getting dark, and we were getting hungry again. We decided to head back to Tokyo station to get some dinner, as Yuki and Tomoko had to leave from there after dinner. So we jumped back on the train and retraced our steps back to Kanda. Tokyo station is only one stop south of Kanda, and is a central hub for JR trains, Tokyo Metro subway trains, busses, and the shinkansen.
Miles and Tomoko on the train.
We found an izakaya(Japanese style pub) just a short walk from the station.
Miles and I, drinking some good Sake.
Food at an izakaya is similar to ordering a bunch of appetizers. Dishes come in two to six piece portions that are easily shareable with a group of people. This is a great way to sample many different Japanese foods. Also, there are two special events that happen on certain nights. These are tabe-hōdai(all you can eat) and nomi-hōdai(all you can drink) in which you can buy one and get unlimited of the other, within a two or three hour time limit.
Left: Izakaya Confusion. Right: Takoyaki & Katsuobushi.
One of the dishes we ordered was Takoyaki which is battered and fried diced Taco(octopus). It usually comes garnished in Katsuobushi, which is thinly sliced and dried Bonito. The Bonito flakes will "dance" when garnished on top of hot foods.
This is Miles and Tomoko's friend, Yuki. Unfortunately, this blurry photo is the only one I have of her.
Ahh, full of good food and sake. Yuki had to go home and Tomoko had to go back to Nagoya, so we headed back to Tokyo station to send them off. Miles was staying at my apartment for a couple nights. A big thank you to Tomoko for coming all the way from Nagoya. :D I know that's an expensive trip.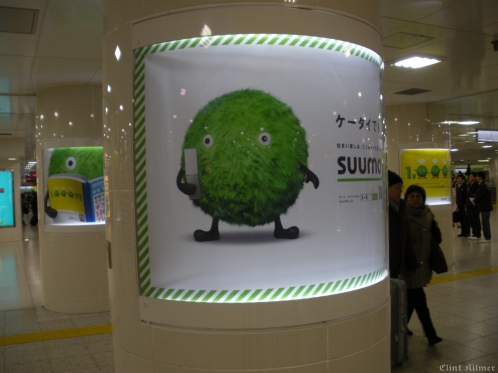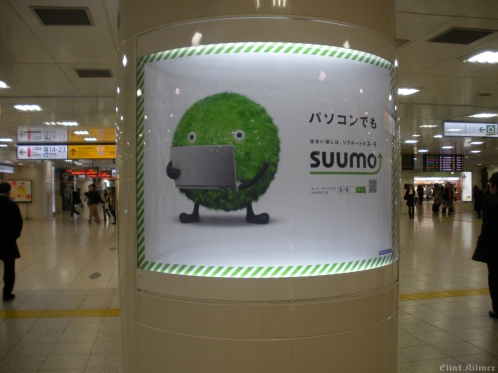 Cute advertisements for Suumo(a real estate company).
Hopped on the train for the one station trip to Kanda. On the way back to my apartment, Miles and I bought some beer and snacks at the local combini(there's a Sunkus across the street and a FamilyMart at the end of my block). We proceeded to drink at my apartment while watching some odd Japanese TV.